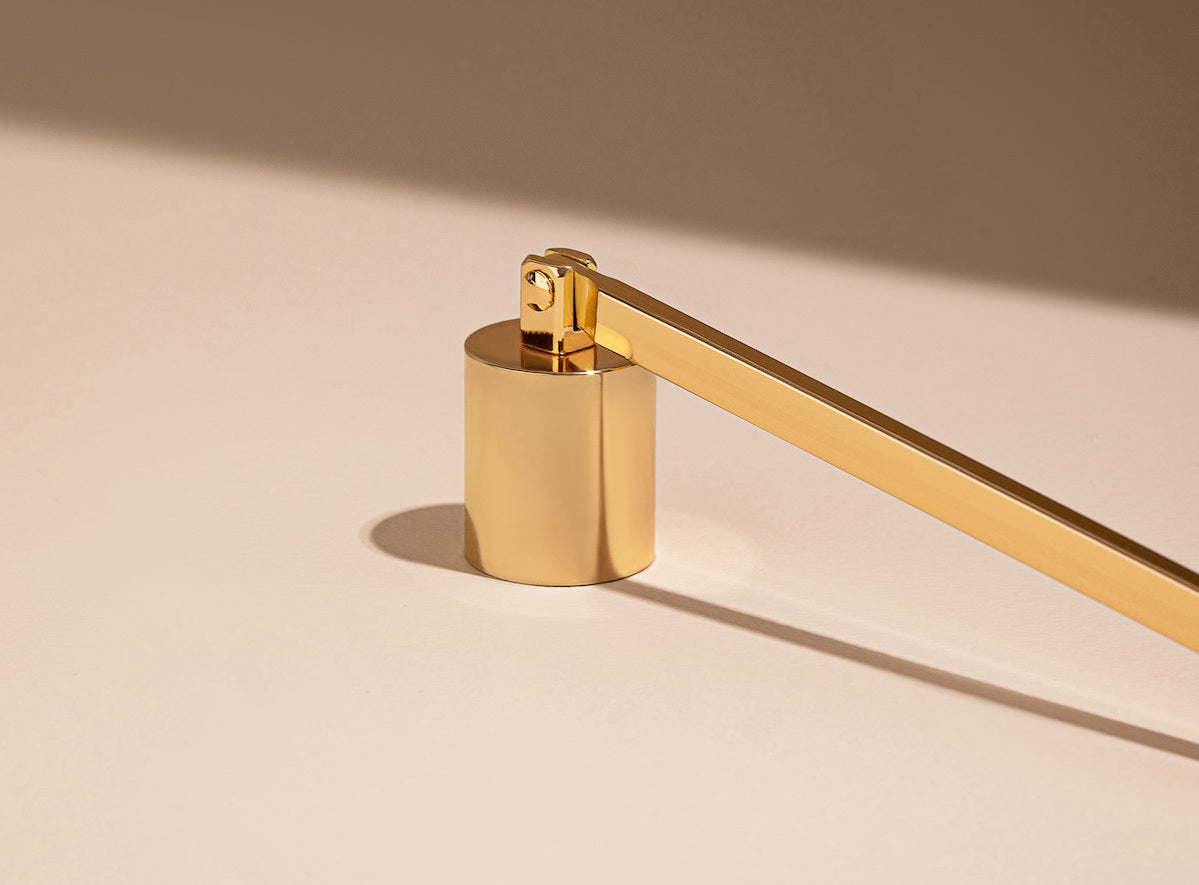 How to Use a Candle Snuffer Without Making a Mess
Candle snuffers have become a decor staple in many homes—even for those who aren't as big of candle fanatics as we are. They're pretty, affordable, and add a sense of sophistication to a room, but they do a lot more than just provide an aesthetically pleasing vibe.
If you've ever wondered how to put your candle out the right way, candle snuffers are the answer. They protect the quality of your candle so it can continue to burn properly. Here are a few tips for using a candle snuffer, minus the mess. 
How to Put a Candle Out the Right Way
Let's start with some basics. Although we'd love to burn our candles 24/7 (especially during the winter months), we recommend burning no more than 4-6 hours at a time. Burning any longer than that can cause your candle to overheat, leading to uneven burns, mushroom-looking wicks, and excess smoke.
When it's time to extinguish the flame, the best way to do so is by using a candle snuffer. Snuffers are superior to blowing a candle out because they prevent wax and soot from being blown around (and potentially getting stuck on the inside of your vessel). Snuffers simply provide a more delicate way to put out a flame, protecting your wick and wax in the process.
How Do Candle Snuffers Work?
Candle snuffers are bell or cylinder shaped cones with handles on the end. When placed over a lit wick, snuffers keep air away from the flame which causes it to extinguish. Candle snuffers can be used for traditional candles, tapers, and pillars.
Photo by Taylor Cready
How to Avoid Getting Wick Debris in Your Candle
You hover your snuffer over your favorite candle and pull it up only to reveal that tiny pieces of the wick have dropped into your wax. Ahhh, a rookie mistake (we've all been there).
The key to avoiding this is to pay special attention to the way you hold the snuffer over your candle. Rather than dipping the snuffer into the wax, gently hover it over the wick for roughly 10 seconds without dipping it too far down. This will ensure that the snuffer doesn't bump against the wick and will prevent debris from dropping into your wax.
The Best Way to Clean a Candle Snuffer
Putting a candle out the right way every time is somewhat of an art. While you get the hang of using your snuffer, you might accidentally dip it into the wax. To clean it, soak the bell-shaped portion of your snuffer in boiling water. Gently chip away at any leftover wax and wipe it dry with a clean towel.