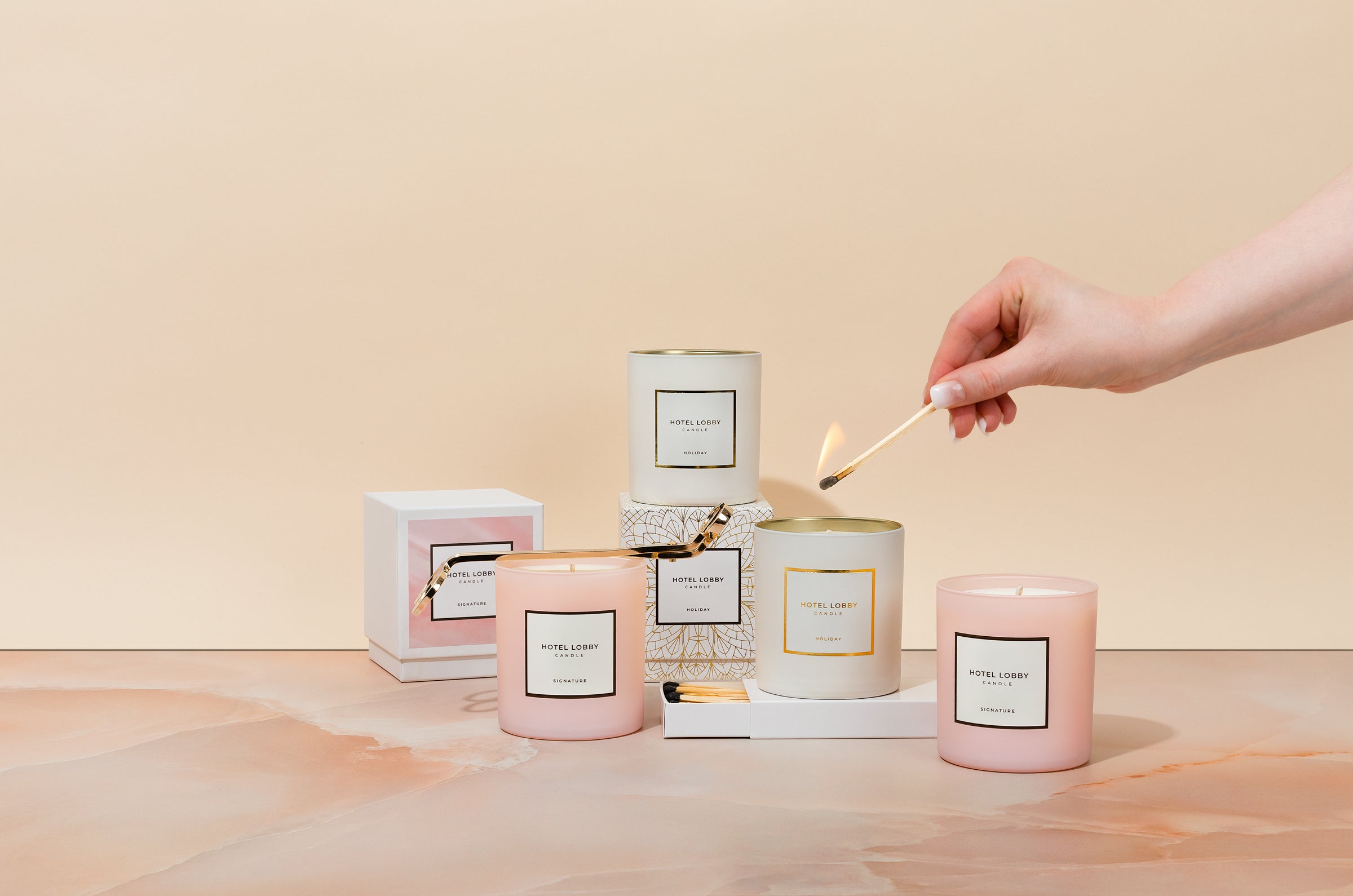 What is a Clean Burning Candle?
Many of us try our best to be informed about the ingredients in the foods we eat and the chemicals in products we bring into our house, but have you ever considered what your candles are made of?
You might select your candles based on how they smell, look, or maybe even what price point they come at — all valid markers for choosing this home decor staple. However, if clean living is important to you, there's more you should be paying attention to. 
If you get headaches after lighting a candle or are simply trying to make healthier choices, here's what you should know before purchasing your next candle. This will have you adding "clean burning ingredients" to your candle criteria, stat.
Three Things That Make a Candle Burn Clean
1. Wax

The cleanest waxes are soy, beeswax, and coconut. Don't be fooled by some brands as they like to mix these with paraffin wax. Make sure your candles are made with 100% of a clean wax listed above — our candles are made with natural soy wax.

2. Wick
Look for candles with wicks made from 100% cotton, hemp, or wood for the cleanest possible burn. All Hotel Lobby Candles are made with a braided cotton wick.
3. Fragrance
Clean burning candles almost exclusively use essential oil and fragrance oil bases — this means they're free from paraffin, UV inhibitors, and phthalates. All Hotel Lobby Candle fragrances are phthalate-free and adhere to RIFM (Research Institute for Fragrance Materials) and IFRA (International Fragrance Association) standards for safety and purity. 
Bonus: Most clean burning candle scents are stronger than others. This is because soy wax has a stronger throw, meaning the scent can fill a larger room with more potency.
The Benefits of a Clean Burning Candle
Clean burning candles are a better option for anyone who is exposed to them. Whether you're sensitive to fragrance, have pets, or are worried about potential hormone disruptors, non-toxic candles will be a smarter choice for your home.
Always check ingredient labels to look for soy, beeswax, or coconut candles. When you use candles made with those wax options, it won't release harmful and unwanted chemicals into your living space. Alternatives, like paraffin wax, can release toxins as a byproduct of petroleum oil.  

How Can You Tell If Your Candles are Burning Clean?
You may have already tossed the packaging or removed that unwanted sticker from other candles that are in your home, so how can you tell if they're burning clean? The best way to identify a clean burning candle is by taking note of any excess smoke the candle gives off.
A good test is to burn your candle near a wall and see if dark soot marks are left behind. If it does produce excess soot, it's likely not a clean burning candle, and it might be bringing more toxins into your space.
Additionally, if your inexpensive candle that smells of fresh pine or vanilla gives you a headache after burning for a short period of time, it's likely that the base is not crafted with an essential or natural oil. Many candle scents can be enticing, but if you're sensitive to the fragrance, the wax might be made from paraffin rather than a clean burning option.
Keep the criteria mentioned above in mind when picking out candles for your home. If you solely buy Hotel Lobby Candles then you're in luck — they're all clean burning.