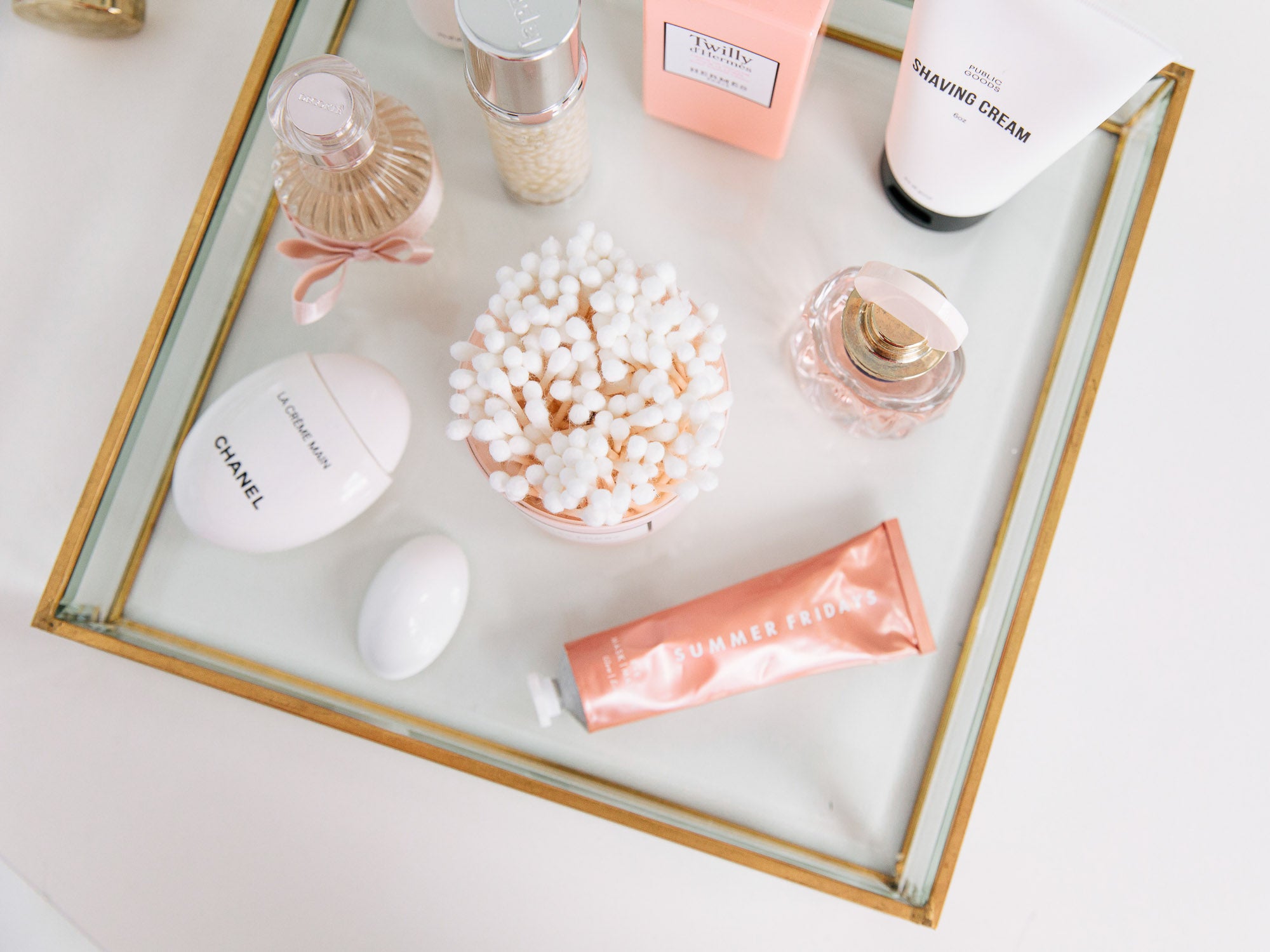 20 Creative Ways to Reuse Your Candles
A candle's life doesn't have to end when
the wax runs out
. On the contrary,
repurposed candle jars
 can be used for virtually anything. That's why we rounded up 20 of our favorite ways to keep your candles looking fire—
no flame
required.
Take a peak inside any Cool Girl's bathroom cabinet, and you're sure to find at least a few empty candle jars. Fill 'em up with Q-Tips or cotton pads, and your bathroom will look ten times cooler instantly.
Add a little flair to your desk organization. Use an empty candle to store pens, paper clips, or scissors in style.  
Have one too many lip glosses? Us too. Use your candle jar for a grab-and-go gloss situation that's chic and convenient.
Trim a few pretty flowers, add water, and you've got yourself one stylish mini vase. We like to place a few on a side table, but the options are endless.
A little greenery is the perfect pop to any room. Pick up a mini succulent and get planting! Or, grab a faux one (no shame) for an even easier plant situation.
Make your candle into...another candle. Simply place a tea light inside your empty jar and light up.
It's a bit more involved than just throwing in a tea light but so worth it! Mix some heated wax with your favorite essential oils and freeze in a jar for a personalized candle.
Forever searching the junk drawer for a matchbox? Stick 'em in an empty candle jar for a chic, simple storage solution that looks great on a shelf. 
Use emptied (and cleaned!) candle jars as liquor glasses to give your bar cart an eclectic, one-of-a-kind feel.
The extra-thick glass makes our candle jars perfect for nursing a hot cup of Joe. Just be sure to let your drink cool off for a bit before grabbing it!
Finally a way to deal with those pesky coins that somehow always end up in the bottom of our purses. Use an empty candle jar as an adult piggy bank, and save that cash for a rainy day!
Throw some M&M's in an empty candle jar, place it on a coffee table, and let your guests enjoy as a sweet treat! It'll make for a fun surprise, while still looking totally chic out in the open. 
Cut up some bamboo skewers and drop them in a jar filled with warm water and your choice of essential oils for a DIY diffuser that's guaranteed to keep your home smelling like a dream.
A candle jar is the perfect place to store loose tea bags and other small items that'd otherwise clutter up your pantry.
You've heard of the junk drawer, now meet the junk jar. Throw in your rubber bands, matches, and random wires for a slightly less chaotic storage method.
Leave an empty candle jar by your front door and keep it filled with any and all essentials—gum, cash, masks, lip balm, keys, etc.
Have those t-r-e-a-t-s out and ready for your favorite good boy (or girl!) Just make sure to keep your jar up high and out of a dog's reach.
Use electric candles or other mini lights to spruce up that empty jar. Place outside and keep the party going all night long!
Up your dinner party game without breaking the bank. Use an empty candle jar as a focal point for your table—add flowers and candles for the ultimate set up.
Keep those cookbooks upright and in order with candle-jar-bookends. For extra heavy books, weigh down your empty jar with sand, pebbles, etc.
Feeling inspired?